Click here to break from frames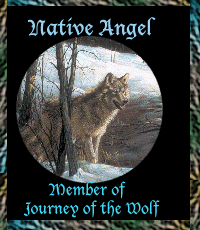 O'siyo! Welcome To....
My little home on the web.
I have made these pride lands in honor of my Native Heritage, and to also show my spirit, by doing it with music, art and graphics.
(The Links are below on a drop down menu)
I hope you enjoy your visit, the art gallery is filled with beautiful music and art, and I have stationary and greeting cards that use all the graphics and images from my site.
The Fonts here are: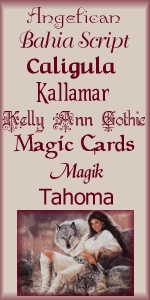 If you would like them, download them here. (zip file)
Applet courtesy of David Griffiths
---
New:
(prints with your name and meaning suitable for framing!)
Wisconsin Pages and AOL pages!
FREE~Stationary for you to choose from!
FREE~ Internet Greeting Card Shop!
Site Fights Spirit Pages!! just visit the "Spirit Lands"
(Guest book For Site Fighters Here!!)
---
I hope you enjoy your visit here, please feel free to roam around and visit my pages filled with pictures, info and goodies! This site is updated very often, so please do journey with me again!
Links are below:

~Menu divided into the Spirit Lands and the Native Lands~
(This first page is a part of The Native Lands, *Spirit Lands are intended for the site Fights Members, but all visits are welcome!)

To be informed of changes and / or additions, please sign up here! "smiles"
((Site Fighters, Please use the Spirit Pages Guestbook, Thank You!))

Last Updated February 8, 2002
Site best viewed with Internet Explorer 4.0 or higher

Now, on with the Journey!!